Alberto SURI PANAIOLI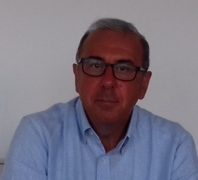 BIOGRAPHY:
Alberto Suri Panaioli attended at the regular course of the Italian Naval Academy 1982-86, master degree at University of Trieste 1989 in Naval Architecture and Mechanical Engineering. Served as seagoing Engineer/Chief Engineer on board several types of naval vessels, among others minehunter, logistic support ship, aircraft carrier and survey vessel. Lecturer at the Italian Naval Academy. Resigned with the rank of Lieutenant Commander and joined Lloyd's Register of Shipping (LR) in 1997. Since then have been dealing with class and statutory surveys of existing ships and mega yacht new constructions, inspection of materials equipment and components, works approval, type approvals, ISM audits, ISPS audits, ISO 9001/OHSAS 18001 audits of shipping companies and ships, MLC inspections and plans appraisal, inspection of reefers to Code Quality 360. Furthermore currently LR Flag Representative (Marine and Offshore) and Trainer. Past in-house QA auditor.
Contact

041 959399

alberto.suri-panaioli@lr.org

Website

Download CV
Advanced Master


An advanced course created for graduated students and employees who are involved in the design and manufacturing phases of ships and/or offshore vessels/platforms, which will improve their skills in maritime safety as well as in environmental and security issues.
Upskilling Programme


A course designed for both employed and unemployed professionals who have already developed technical skills and capabilities in maritime safety, the environment and security at sea,which will provide them with additional expertise in the safety and security fields, with respect to on-board personnel, infrastructure and the environment.
Teacher has no Lectures in this module
Training the Trainers


A refresher course thought for teachers of high schools with technical courses, which will confer them an updated knowledge about multidisciplinary topics on safety and security issues related to maritime sector.
Teacher has no Lectures in this module