Trieste & surroundings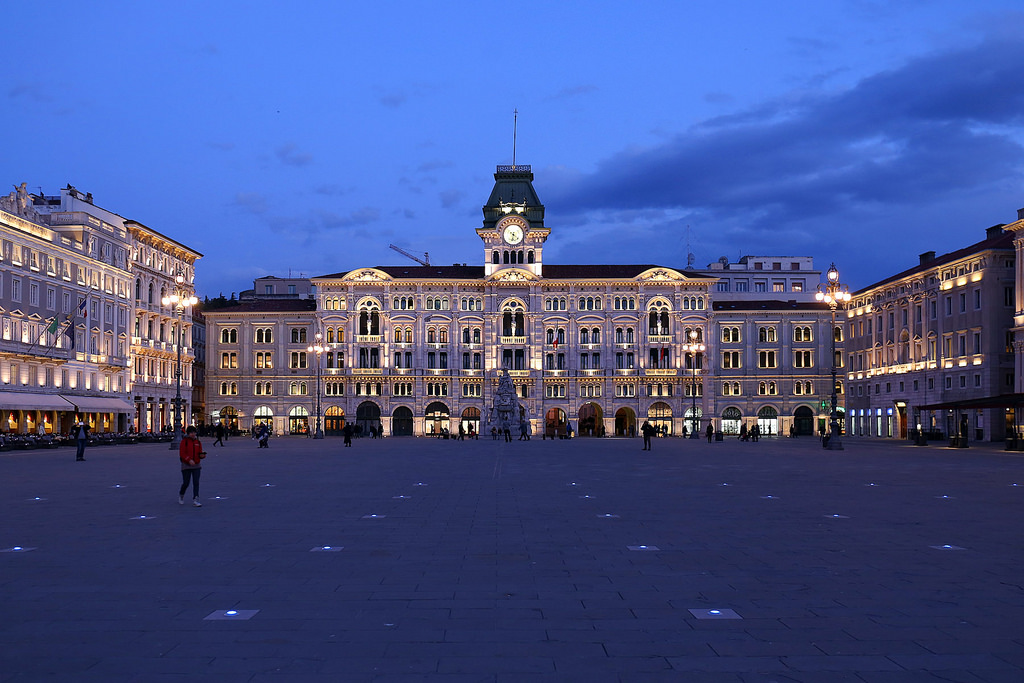 A land that wraps you in a warm maternal embrace made of Mediterranean scents and colours, but at the same time unkind and refreshing because of the famous Bora wind, Trieste is a Mitteleuropean city, which inspired great literary figures such as James Joyce, Italo Svevo and Umberto Saba. The city is firmly linked to its traditions like:
the popular baths in the beach resorts – the so called 'bagni', in local slang, which are frequented all the year round, for sunbathing, swimming or just strolling.
the "Tram of Opicina"- an old tram, a joke for tourists and a return to the past for residents, that takes you high to Opicina small village. At the end, you can also go for a walk on the Napoleonic road for enjoying some relax moments in the middle of nature and having a beautiful overview of Trieste from above. You can still visit some historical stations, nowadays little used or completely disused.
ART, CULTURE AND HISTORY
When coming to Trieste by train, you will notice the Lighthouse of Victory, a white lighthouse as memorial to the fallen at sea, which illuminates the Gulf.
Living in the city, its artistic history can be easily noticed in its palaces: Neoclassical, Art Nouveau, Eclectic and Baroque, coexisting in a harmonious blend with Roman remains, eighteenth century buildings and Hapsburg style buildings. Also called "The City of Insurances", Trieste hosts architectural and artistic masterpieces of historic insurance companies. From vintage locals to different castles, as the Castle of Duino and Miramare with its marine reserve and wonderful park, Trieste makes you dive into a majestic past.
Have a walk among center's streets and discover Piazza dell'Unità d'Italia, one of the loveliest and biggest sea-front city squares in the world, with its Government Palace, designed by the Viennese architect Emil Artman and built between 1901 and 1905. Then, if you are a romantic soul, don't miss to visit the famous Hill of San Giusto: the many steps up to the hill are a little bit tiring, but the visit upside is definitely worth it. You will enjoy a beautiful view from the solid stone San Giusto's castle, from its walls, ramparts and walkways guarding the city. Going down from the picturesque street of its XIV Century's old cathedral, you can reach the Roman theater in a great state of conservation.
Traditional but at the same time culturally opened, the mixture of religions is evident as soon as you arrive in Trieste which, for many centuries, has had (amongst others) a Greek Orthodox Church, a Serbian Orthodox Church, a Synagogue, a Lutheran Evangelical Church and, the oldest of all, a Swiss Evangelical Church. One of the oldest places of worship in the city, the Basilica of San Silvestro, built in XII Century, fascinates the visitor with its undeniable grace. Trieste also has a famous sanctuary: the Marian Temple of Monte Grisa.
Trieste proliferates with its several and historical theatres as the Politeama Rossetti – Teatro Stabile del Friuli Venezia Giulia, the Teatro Verdi and the Teatro Miela and the Slovenian Stable Theatre. You can discover more about museums and art galleries at TriesteCultura.
DISCOVERING NATURE
Trieste with its Karst promontory (Carso), as well as having unmistakable colours, traditions and flavours, also has a number of unique natural attractions. If you are a nature lover, then Trieste will make you fall in love with its naturalistic beauties and itineraries.
The Carso is a limestone plateau region extending across the border of southwestern Slovenia and northeastern Italy. Natural conditions, including the Bora (from Slovenian: burja) wind, and the local way of life all shaped the elements of the architecture, creating simple but well-defined forms. The Carso is famous for its caves: exactly in Trieste lies Grotta Gigante, which, with its 65m width, 280 m lenght and a dome vault of 107m, is the largest show cave in the world and offers you spectacular stalactites and stalagmites. Other kind of Karst's cavities are also and more unfortunately known: maybe you have already heard about Foiba of Basovizza, originally a mining well, today a national monument in memory of the events that took place at the end of World War II. Having some walks among Karst's nature you will benefit of spectacular itineraries as the Rilke trail and Rosandra Valley. Discover more on DiscoverTrieste.
Near Trieste there is the little city of Muggia, a picturesque town, which looks nearly Venetian, also reachable every day by boat. There are summer lines linking nearby or slightly remote maritime locations (Barcola, Grignano, Sistiana and Grado) and you can bring your bike with you. Visit TriesteTrasporti or AptGorizia or  DelfinoVerde.
Once you have visited Trieste and its surroundings, there are mountains, hills, beaches, plains and historical cities waiting for you: the region of Friuli Venezia Giulia is a marriage between different landscapes. Just take a moment to look at TurismoFVG and choose your next activity!
NEAR BUT ABROAD: SLOVENIA AND NEIGHBOURING COUNTRIES
For a vacation or day trips you should consider Slovenia and the whole Balkan area until Greece. In neighboring Slovenia you can visit famous cities, ancient villages, castles, unspoiled beaches and famous and magnificent caves as e.g. Postojna and Lipica caves but above all, the Škocjan Caves, a UNESCO World Heritage Site for their cavities' size and underground gorges. Check out all the amazing places you could visit in Slovenia.
To reach Slovenia and Croatia by sea there are ferries that from the port of Trieste head towards south even for a daily trip. Check on TriesteLines and MinoanTrieste if you want to reach Slovenia, Istra (Croatia) and Greece.
SPORTS AND OUTDOOR ACTIVITIES
Trieste is a city of sea and mountain with a mild climate, so if you want to practice some sport you will find great opportunities. Due to its position and geographical area, people from Trieste are used to go hiking and climbing in the beautiful Rosandra Valley, on the Napoleonic road and all along the Carso both on the Italian and on the Slovenian sides. Speleology also involves many groups thank to the great amount of caves in the territory, which have been completely mapped by the Region. Bikers can find their dimension here, where and ancient rail road has been transformed into a bike path that links the centre of Trieste to Hrpelje (Slovenia) in about 12 km or linking to the route that goes from Grado to Salzburg (Austria) in one week.
Finally, you can take advantage of the possibilities given by the sea: sailing (don't miss the Barcolana on the second weekend of October!), windsurfing and canoeing will give you a sight of the city that you can not imagine!
SUPERMARKETS AND SHOPS
The shops and boutiques in the central area are usually open from Monday to Saturday from 9.00 to 12.30 and from 15.00/15.30 to 19.30.
There are several shopping centers, which are open from Monday to Sunday from 9.00 to 20.00 or later.